LIBRO APPENA PUBBLICATO
E GIÀ PREMIATO A LIVELLO INTERNAZIONALE
Carissimi amici Vi annuncio la disponibilità anche della versione cartacea del mio ultimo libro «Luce da Luce»,  cui ho ricevuto la notifica in data 8 dicembre 2019 di un riconoscimento internazionale:
V PREMIO INTERNAZIONALE «SALVATORE QUASIMODO» – EDIZIONE SPECIALE 2019 PER IL 60° ANNIVERSARIO DEL CONFERIMENTO DEL PREMIO NOBEL PER LA LETTERATURA.
PREMIO ASSEGNATO DALLA GIURIA PRESIEDUTA DAL FIGLIO ALESSANDRO QUASIMODO:
MENZIONE AL MERITO AL MIO ULTIMO LIBRO «LUCE DA LUCE – Poesie e Inni», edito da Fede & Cultura di Verona, ottobre 2019.
The book is currently being translated, published, and distributed internationally in English, French, and Spanish. The book is presently being translated into Portuguese, Polish, and Russian.
El libro está siendo publicado y distribuido internacionalmente en inglés, francés y español. El libro también está siendo traducido al portugués, polaco y ruso.
Le livre est en cours de publication et de distribution internationale en anglais, français et espagnol. Le livre de plus est en cours de traduction en portugais, polonais et russe.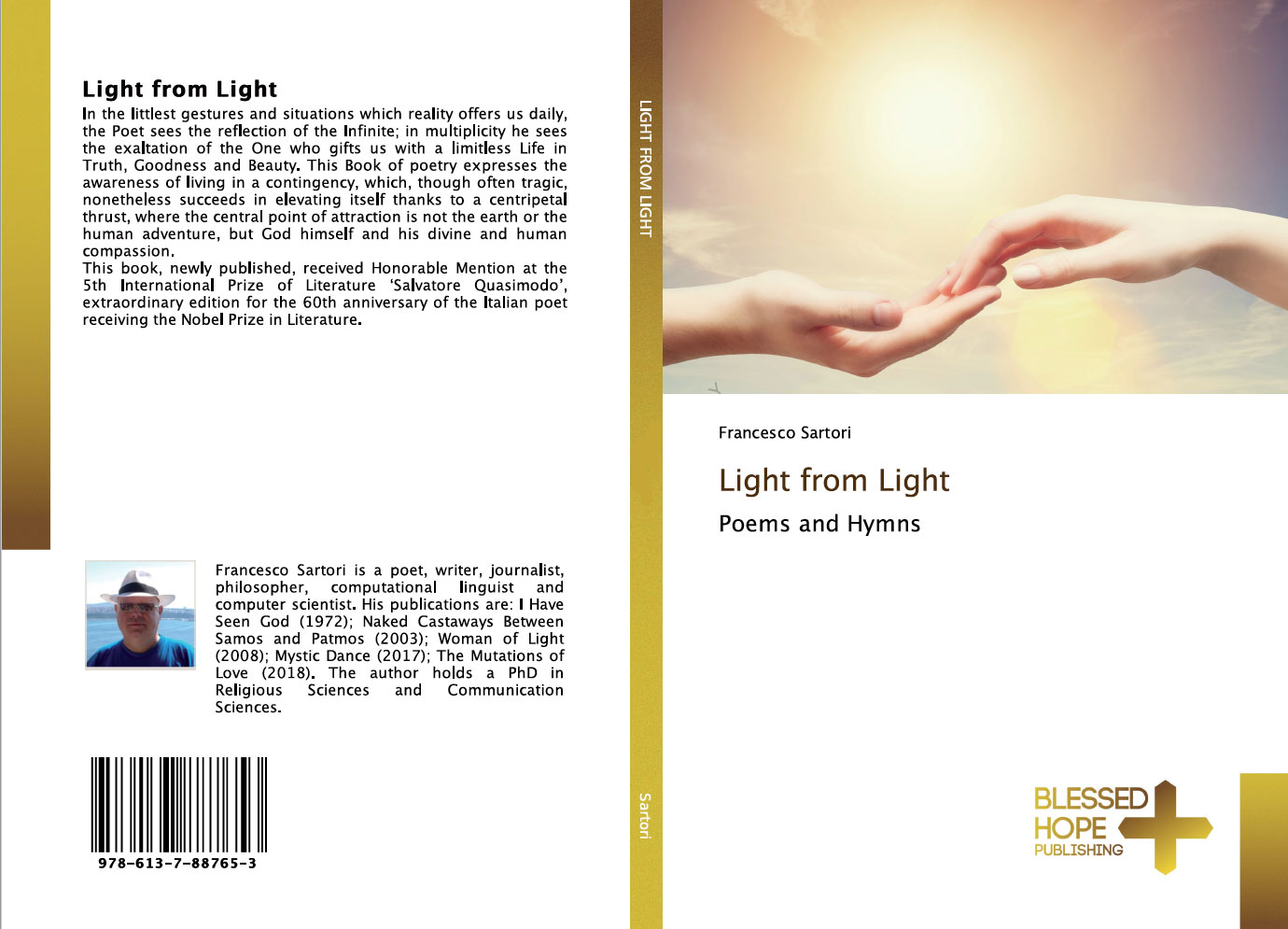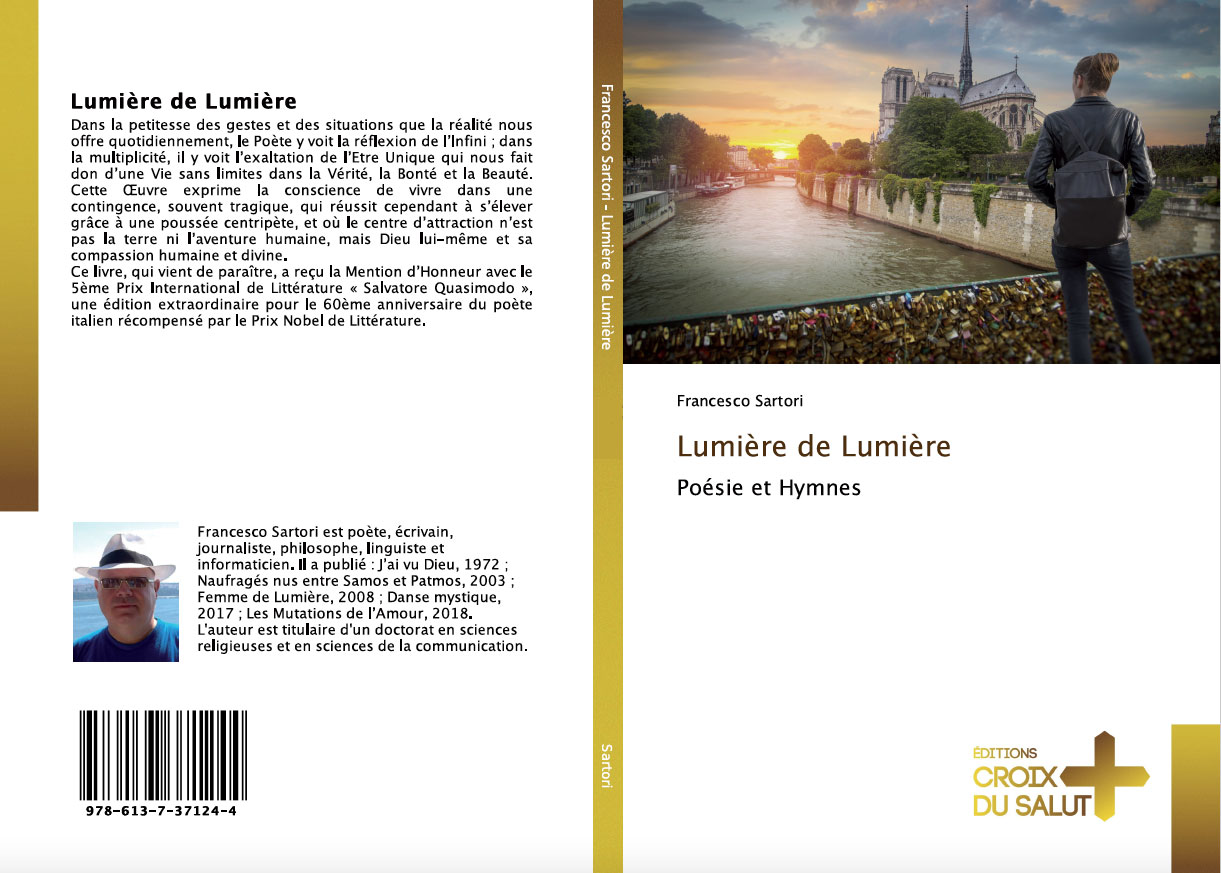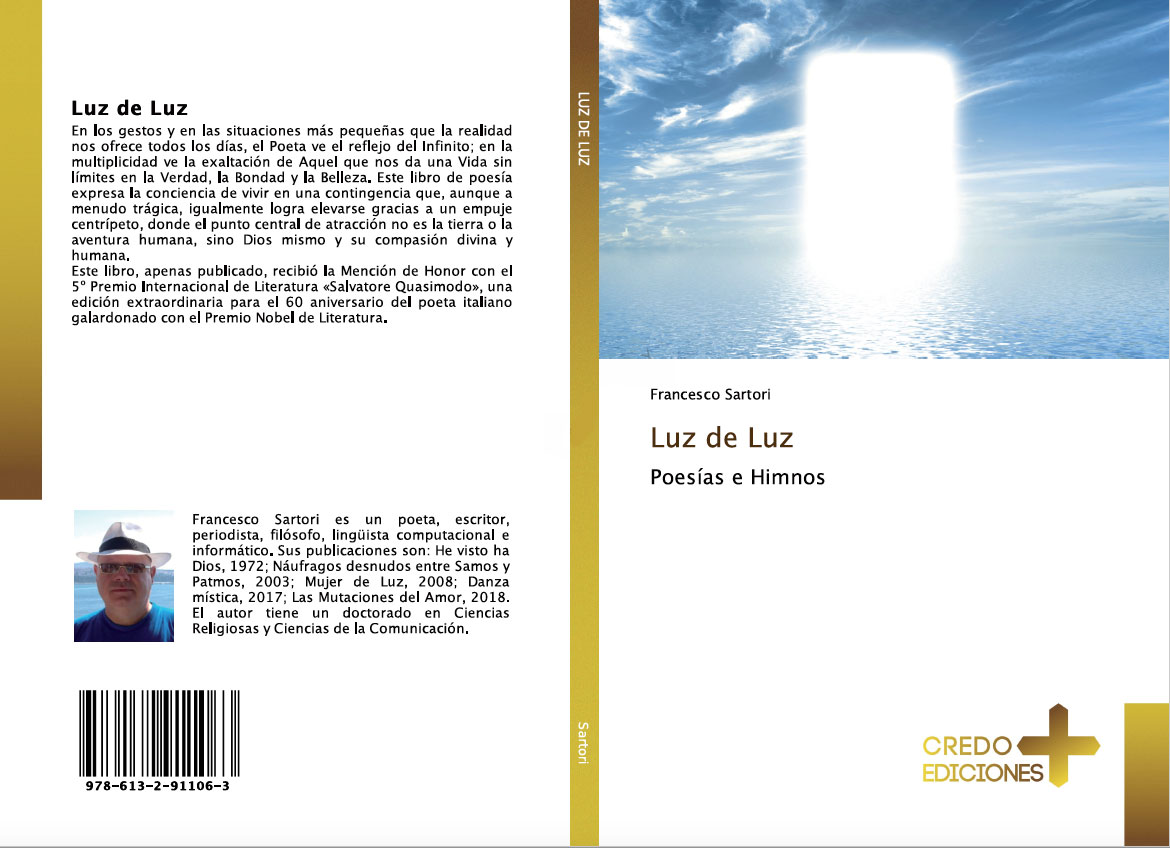 Vi ringrazio di cuore per la stima e l'amicizia.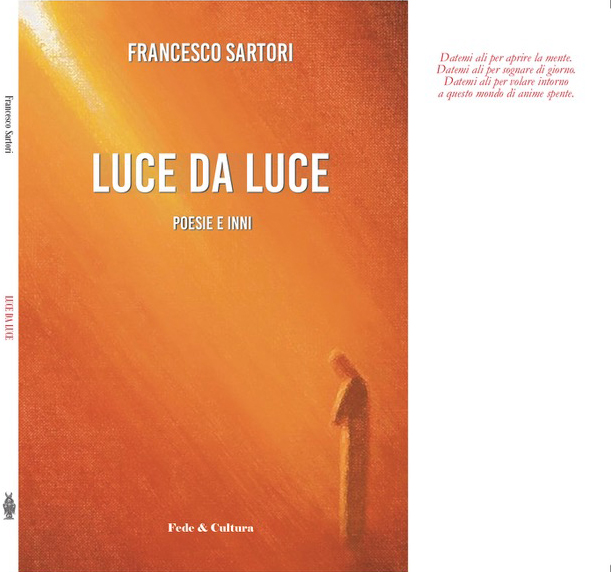 PREFACE
Poetry is not a form of escape into an unrealistic and irrational fantasy, detached from reality. The Poet's feet are firmly planted on the ground, while his mind rises to the heavens – hidden from most – though only to gain the profound meaning of existence, and of a man immersed in a universe flooded with direct and indirect messages. But these messages are more than simple gnostic missives. Rather, they are part of a greater harmony revealed in the incredible Beauty of the created universe. Forming the 'heartbeat' of the cosmic life which contains us, are nature and emotions, culture and sentiment. Something which the Creator, in His infinite Wisdom, Love, and Rationality, has placed within our immortal souls.
The Artist is a speck within this infinity of Love. He is entrusted with the mission of using language, in its broadest sense, to pass on the 'Heart of Life' to his fellow beings.
The Poet-Artist in particular is a demiurge of spoken and written language; he is a vehicle for the wonder of everyday living, as if living in the absolute eternity of the present moment.
In the littlest gestures and situations which reality offers us, the Poet sees the reflection of the infinite. In multiplicity he sees the exaltation of the One who gifts us with this limitless Life in Truth, Goodness and, of course, Beauty, which contains the first two archetypal concepts.
……………….
With that, I hope you enjoy the book and your immersion into the luminous darkness of life, until you find the Light which illuminates the deepest reaches of the Soul, in a world which, though dying, yearns to rise again in God's pure Light.
The Author
Valli del Pasubio, September 14, A.D. 2019
Feast of the Exaltation of the Holy Cross